H.A.L.O.'s Faux FurBall
November 30, 2020 @ 8:00 am

-

December 12, 2020 @ 6:00 pm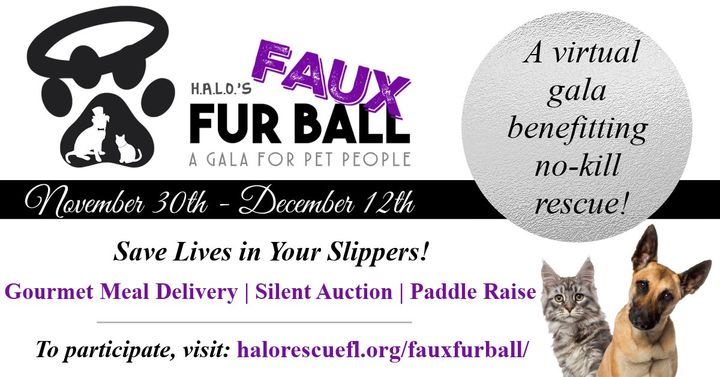 PARTY WITH YOUR PACK!
We are so excited to announce H.A.L.O.'s Faux Furball!
With all of the uncertainty in the world today, we searched our hearts and made the decision to gather together in a different way this year.
While 2020 brought new challenges, we wanted to focus on the silver lining! With the world in quarantine, we were able to grow our foster programs and focus on getting more of our long term rescues into their forever homes. Without in-person events, we learned how to stay connected with our amazing supporters through online fundraisers and were able to build wonderful new relationships.
Although we can't be together in person, we wanted to gather virtually in celebration of another wonderful year of no-kill rescue and raise the vital funds needed to keep saving lives.
The Faux FurBall will be an interactive digital experience where all of our wonderful supporters are able to participate in a silent auction and paddle raise. On November 30th, the paddle raise and silent auction all go live right here!
For our local supporters, we are also offering gourmet meal tickets where you will enjoy a fabulous meal or char crudite prepared by the talented chefs at Wild Thyme Catering. Complimentary wine, paw shaped cutting boards and VIP bags will be included in every order and each meal will be hand delivered by a H.A.L.O. volunteer.
We hope to see our amazing supporters gather together on this night with family and friends and have your own personal celebration with your pack! Gourmet Meal tickets go on sale on September 1st and they are limited to 150 orders so please don't wait!
The grand finale will be on Saturday, December 12th at 6:00 pm. Everyone who purchased a ticket will have received their fabulous gourmet meal, complimentary wine and VIP bags, bidding ends on the auction and a video about the IMPACT you made goes live.
Your support during this event will help ensure that H.A.L.O.'s lifesaving programs continue growing and allow us to save even more lives in 2021! We hope you enjoy!
Related Events